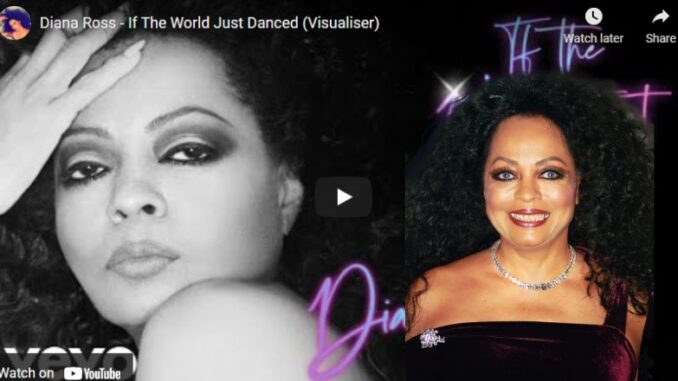 Diana Ross, the legendary icon singer, released a new single, "If The World Just Danced." The number serves as the second preview of this icon's singer's first new studio album in 15 years, 'Thank You, which will be out on November 5, 2021, through Decca Records.
It finds Ross implementing elements of electronic dance music to create an energetic, bouncy number. Press play below. Details of the record were unveiled back in June, along with the first single and title track.
The L.P. was co-penned by Ross, who worked alongside songwriters and producers such as Jack Antonoff, Troy Miller, Triangle Park, Spike Stent, Prince Charlez, Amy Wadge, Neff-U, Freddie Wexler, Jimmy Napes, Tayla Parx, Fred White, and Nathanial Ledgewick.
She will take the Thank You Tour to the U.K. arenas in June 2022. Tickets are on sale now.
Diana Ross, an American singer, songwriter, and actress from Detroit, was born on March 26, 1944. She rose to fame as the lead singer of the vocal group the Supremes, who became Motown's most successful act during the 1960s and one of the world's best-selling girl groups of all time. They remain the best-charting female group in U.S. history, with a total of twelve number-one hit singles on the U.S. Billboard Hot 100, including "Where Did Our Love Go," "Baby Love," "Come See About Me," and "Love Child."
Following her departure from the Supremes in 1970, Ross embarked on a successful solo career in music, film, television, and stage. Her eponymous debut solo album featured the U.S. number-one hit "Ain't No Mountain High Enough" and music anthem "Reach Out and Touch (Somebody's Hand)." Her second solo album followed it, Everything Is Everything, which spawned her first U.K. number-one single, "I'm Still Waiting."
She continued her successful solo career by mounting elaborate record-setting worldwide concert tours, starring in several highly watched prime-time television specials and releasing hit albums like Touch Me in the Morning (1973), Mahogany (1975), and Diana Ross (1976) and their number-one hit singles, "Touch Me in the Morning," "Theme from Mahogany" and "Love Hangover," respectively. Ross further released numerous top-ten hits into the 1970s, 80s, and 90s.
Diana Ross achieved two more U.S. number-one singles, "Upside Down" (1980) and "Endless Love" (1981), as well as U.K. number-one, hit "Chain Reaction" (1986) and U.K. number-two hit "When You Tell Me That You Love Me" (1991).
Ross has also ventured into acting, with a Golden Globe Award-winning and Academy Award-nominated performance in Lady Sings the Blues (1972); she recorded its soundtrack, which became a number one hit on the U.S. album chart. She also starred in two other feature films, Mahogany (1975) and The Wiz (1978), later acting in the television films Out of Darkness (1994), for which she also was nominated for a Golden Globe Award and Double Platinum (1999).
Diana Ross was named the "Female Entertainer of the Century" by Billboard in 1976. As a solo performer beginning in 1970, Ross has released 24 studio albums, numerous singles, and compilations that have sold more than 75 million records worldwide.[4] She is the only female artist to have number-one singles on the Billboard Hot 100 as a solo artist, as the other half of a duet, as a trio member, and as an ensemble member.
Billboard ranked her as the 28th greatest Hot 100 artist of all time. Ross ranks among the Top 5 artists on the Billboard Hot 100 singles chart from 1955 to 2018 when combining her solo and Supremes' hits. She had a top 10 U.K. hit in every one of the last five decades and sang lead on a top 75 hit single at least once every year from 1964 to 1996 in the U.K., a period of 33 consecutive years and a record for any performer. In 1988, Ross was inducted to the Rock and Roll Hall of Fame as a member of the Supremes.
Guinness Book of World Records recognized her success in the United States and the United Kingdom for having more hits than any female artist in the charts, with a career total of 70 hit singles with her work with the Supremes and as a solo artist. She was the recipient of the Kennedy Center Honors in 2007, the Grammy Lifetime Achievement Award in 2012, and the Presidential Medal of Freedom in 2016.