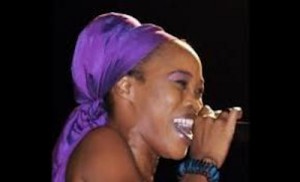 KINGSTON, Jamaica, Sunday May 25, 2014, CMC – Jamaican entertainer Queen Ifrica, who was advertised to headline an event at the Amazura Concert Hall in Queens, New York has been barred from performing
The decision follows protest action in Queens on Friday by more than one hundred persons, claiming her music is homophobic.
President of the Caribbean Alliance for Equality, Jason Latty-Travis, one of the organisers of the protest said anti gay lyrics have been influencing violence against homosexuals.
Describing it as "a very, very good decision," Latty-Travis, who is Jamaican-born, asserted that Ifrica, not being able to perform in New York, "will save lives… especially at a time when there is a spike in violence among the LGBT community in New York."
According to Latty-Travis, while the justification of free speech or assertion of one's religious belief, is often offered for speaking out against homosexuality, it must be understood that words and actions have consequences.
Queen Ifrica, whose real name is Ventraice Morgan, had another performance cancelled last August. That followed her statements glorifying heterosexual marriage, during a performance at the Independence Day Grand Gala in Kingston in 2012.
[cjwizard]reggae music,1,3692834+,,,,,,,,,,[/cjwizard]