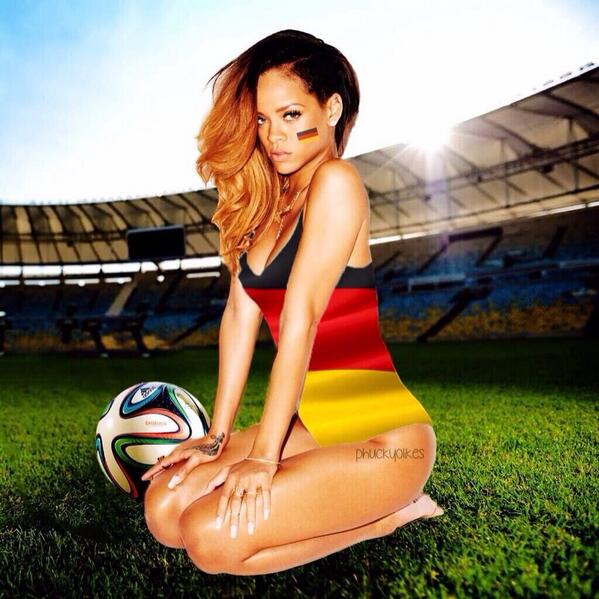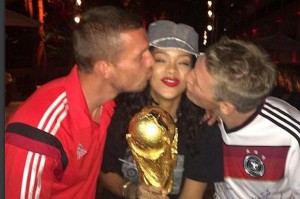 The last time we checked Rihanna in Brazil, she was taking off her clothes for a mostly nude magazine shoot. Our latest update on Sunday saw her partially disrobing for the cameras again, but this time in wild jubilation.
Barbados' pop princess flashed a generous amount of flesh – yanking up her jersey to display the goods from bra to below the navel – to celebrate the victory of her pet team Germany when it created history as the first European squad ever to win football's greatest prize on South American soil.
The Talk That Talk girl, who is one of the world's most popular Twitter users with 36.3 million followers, also helped contribute to the 32.1 million tweets sent during the match, which at one point broke the all-time record for most tweets per minute with 618,725 when the game ended after Germany's big 1-0 win against Argentina.
The Diamonds singer had dazzled with a barrage of tweets since the festivities kicked-off last month, but was at her brilliant best when the eagerly anticipated final got underway at the Maracana Stadium in Rio. The Unapologetic star was exactly that, with titillating tweets from "Mueller is always in the right position!" to "Super f*****g Mario!!!" but her excitement reached fever pitch when 22-year-old Mario Goetze ended Germany's 24-year wait for another World Cup title by scoring the winning goal in extra time. "Goooooaaaaalllll!!!" she tweeted ecstatically. Germany's sexiest World Cup fan went on to tweet a picture of herself holding the prized cup with a group of the winning players and the caption: "They brought me the cup!!! I love these guys!!! Congratulations.
The 26-year-old multiple Grammy winner went on to say it all by tweeting: "Congrats to my German boyz! This was the most epic experience of my entire life! You guys made me so proud to be here."
By way of reply, Lukas Podolski tweeted the somewhat cryptic "What a night with our biggest fan. UnFOURgettable! Thanks Rihanna!!"