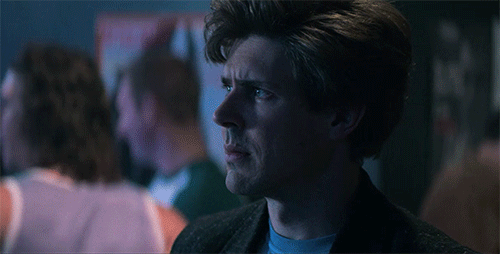 Netflix's GLOW is, of course, about gorgeous (and smart, funny, flawed) women who wrestle, so it's fitting that most of the awards attention has focused on the two lead actresses, Betty Gilpin (Debbie/Liberty Belle) and Alison Brie (Ruth/Zoya). But as we look ahead to the Golden Globes nominations on Dec. 6, I'd like to make a plea to the Hollywood Foreign Press Association for one of GLOW's outstanding supporting actors, Chris Lowell.
As GLOW's wealthy and carefree producer Sebastian "Bash" Howard, Lowell spent most of season 1 doing straightforward comedy. Bash has big ideas but not enough common sense to back them up; he's the kind of guy who thinks a coke-and-condom dispensing robot is a worthwhile investment. But in season 2, as a falling out with his best friend/soulmate Florian causes Bash to confront — or, more accurately, flee from — the truth about his own sexuality, Lowell brings Bash's desperate loneliness and confusion to the surface. Many of the most moving moments of his performance this season are wordless, as when Bash arrives at a place called Shenanigans looking for Florian, and realizes, to his dismay, that it's a gay bar.
The true gut-punch moment, though, comes in the penultimate episode, "Rosalie," as Bash and Debbie are getting drunk in Anaheim, celebrating their successful, Muppets Take Manhattan-inspired whisper campaign for GLOW at a TV buyer's convention. Bash receives a call on his giant '80s cell phone and learns that Florian has passed away — the cause of death, says the nurse, is "technically pneumonia." The news hits Bash like an earthquake, but all we see are the tiny aftershocks that ripple across his face.
It's wonderful that the GLOW writers are giving Lowell more dramatic material to work with this season — while also letting him deliver some of the funniest ringside moments. Bash's announcer style is part stream-of-consciousness, part childlike enthusiasm, and all volume, and I don't think I laughed harder at anything this season than Announcer Bash's loud lament, delivered with all-caps bombast, after Zoya kidnapped Liberty Belle's daughter (actually just a random kid from the audience).
Lowell helped take Bash Howard from an almost-caricature to a full-fledged character, with a beating and broken heart beneath his Malibu Ken exterior. For a performance that was sweet and silly, funny and heartfelt, I hope Golden Globes voters give him a shot at the title.
The Golden Globes will air Sunday, Jan. 9, 2019, on NBC. GLOW season 2 is streaming now on Netflix.
Related content: