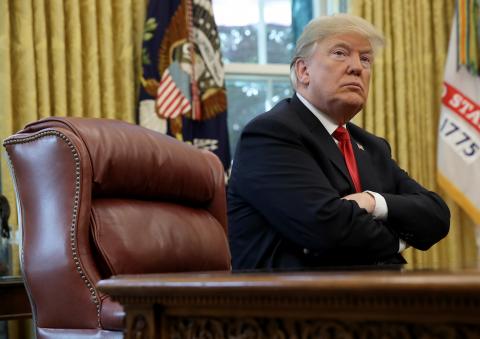 In light of new court filings on Friday, in which federal prosecutors implicated President Donald Trump in the felony crimes related to directing his formal personal attorney, Michael Cohen, to commit campaign finance violations, a former federal prosecutor has asked whether the president fraudulently obtained his office. 
"This is not just a regulatory offense when you talk about campaign finance violations," said Barbara McQuade, a former U.S. Attorney for the Eastern District of Michigan, on MSNBC Saturday. "It could be that President Trump procured the presidency by fraud."
McQuade offered an illegal immigration analogy, a topic the president often reverts to when using inflamed rhetoric to promote conspiracy theories or stoke fear about undocumented immigrants bombarding the southern border.
"When immigrants procure their citizenship by fraud, we strip them of their citizenship," McQuade said. "When a president procures his presidency by fraud, should we consider doing the same?"
Her comments followed a filing from prosecutors in the Southern District of New York that confirmed what Cohen had previously admitted to; He made hush money payments "in coordination with and the direction of" then-candidate Trump to Stormy Daniels and Karen McDougal for their silence of alleged extramarital affairs, which prosecutors said was done "with the intent to influence" the election.

President Donald Trump discusses the potential impact of Hurricane Michael during a meeting with Homeland Security and FEMA in the Oval Office of the White House on October 10 in Washington, D.C. Photo by Win McNamee/Getty Images
"During the campaign, Cohen played a central role in two similar schemes to purchase the rights to stories – each from women who claimed to have had an affair with Individual 1 – so as to suppress the stories and thereby prevent them from influencing the election," prosecutors said, referring to then-candidate Trump as Individual 1. "With respect to both payments, Cohen acted with the intent to influence the 2016 presidential election."
"In particular, and as Cohen himself has now admitted, with respect to both payments," prosecutors added, "he acted in coordination with and at the direction of Individual 1… As a result of Cohen's actions, neither woman spoke to the press prior to the election."
Prosecutors recommended Cohen receive a "substantial" prison sentence of somewhere between 51 to 63 months, or roughly four to five years, despite his cooperation with special counsel Robert Mueller. Mueller's team also filed documents, which praised the former Trump "fixer" for cooperating and did not recommend a particular prison sentence.
The president has said that the new court filing from Friday "totally clears" him of any wrongdoing. The opposite is, in fact, true. 
"Democracy is all about giving full information to voters, so they can cast a ballot for the candidate of their choice," McQuade said. "And by lying and covering up about his past on the eve of the election and violating the laws designed to create transparency, they say that President Trump clouded the process for the American voters."