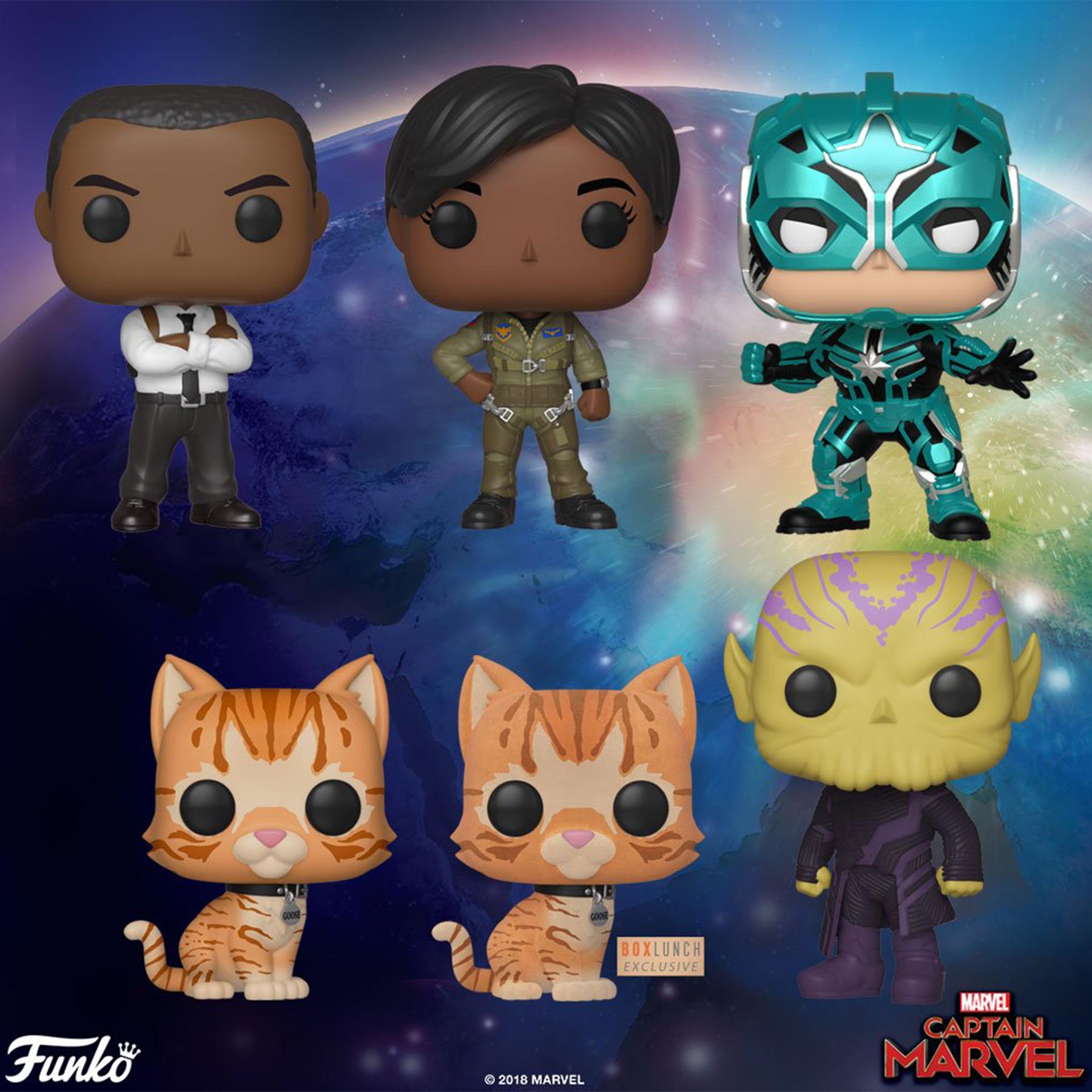 We saw a brief hint of a tail in the Captain Marvel movie poster, but now another comic book character associated with Brie Larson's Carol Danvers has been revealed. Yes, Chewie the cat is coming to the cinematic universe — only Chewie seems to have a new name.
Funko released images of its upcoming Pop! figure line and Carol's feline companion, this time named Goose, gets a figure all to herself.
In the comics, this animal was really a Flerken, an alien species that resembles cats of earth. Carol named it Chewie as she reminded her of the fan-favorite Star Wars sidekick. In the movie, Chewie is now Goose, probably a reference to Top Gun, which Carol's Air Force scenes in the trailer heavily reference.
Funko is also crafting figures based on Samuel L. Jackson's younger Nick Fury, Ben Mendelsohn's shapeshifting Skrull villain Talos, Lashana Lynch's Air Force pilot Maria Rambeau, Jude Law's mystery Starforce commander, and lots and lots of Larson's Carol.
There's Carol in her Air Force uniform, Carol in her Starforce uniform, Carol in her mohawk Starforce uniform, Carol in her Captain Marvel uniform, Carol in her mohawk Captain Marvel uniform, Carol going supernova, and Carol riding a motorcycle.
Captain Marvel introduces what Marvel Studios President Kevin Feige describes as the most powerful hero yet in the MCU.
Carol, a human pilot with alien Kree DNA, is living on the planet Hala and serving in Starforce, an elite military strike team which also includes Djimon Hounsou's Korath and Gemma Chan's Minn-Erva. Crash landing on earth in the 1990s, at a time when Nick Fury still had both his eyes, memories of her human life begin to resurface as she battles the shape-shifting Skrulls who are looking to invade the planet.
The Funko Pop! figures will arrive in stores this January ahead of the film's release on March 8.
Related content: